Qingdao Haide Packaging Co.,LTD was established in 1992 ,is one of the professional flexible packaging manufactures in China. We are located in Qingdao, the Olympic sailing base city, with very convenient transportation, only 10 Kilo Meters with the airport and 18 Kilo Meters with the Center. Our workshop area is more than 8000 square meters, with more than 200 in-service employees. In order to meet the request of world standard quality, food safety, energy efficiency and environmental protection in the progresses of the industry, we established a new joint venture factory with KANAOKA Co.,LTD in 2010. The new factory covers an area of 32700 square meters, follow the request of the international market, benefiting from the experience of KANAOKA Co.,LTD in Japan and other characteristic of outstanding enterprise in Europe, introduce the world-class manufacturing and testing equipment, employ KANAOKA technology manager to served as the technical guidance.

青岛海德包装有限公司成立于1992年,是中国专业软包装生产厂家之一。公司坐落奥帆比赛基地城市青岛交通便利,距离机场仅10公里,距市区18公里。于公司占地面积8000余平方米,在职人员200余名。为满足国际食品包装行业对质量,食品安全,节能环保等需求,公司于2010年与日本金冈株式会社建立了合资工厂。新工厂占地面积32700平米,根据国际市场需求,吸取日本金冈株式会社以及欧洲其他优势企业的经验,引进世界先进生产及检测设备,并聘请日本金冈株式会社的技术管理人员担任技术指导。
The Major products of Haide are all kinds of food packing bags and films, present annual production capability can reach to 6000 tons. 70% of our products are used for packing the foods that will be exported to other countries.
Our production plant was built according to GMP standards. 100,000 grade purification ability can ensure the quality and meet the hygiene request by the clients.

海德主要产品为各种食品包装袋,包装卷材,目前年生产能力可达到6000吨,其中70%用于包装出口食品。
我们的车间完全按照GMP标准建设,10万级净化标准保证产品质量,满足客户卫生要求。

Haide with 4 production lines and 60 equipment, including Rotomec 10-color gravure printing machine, which was made in Italy, printing speed can reach to 300m/min, Comexi high speed solvent-less laminating machine, laminator speed can reach to 450m/min. Comexi multi-fuction laminating machine, Maximum laminating speed is 450m/min. Automatic weighing and high speed slitting machine, slitting speed can reach to 400m/min. Futec inspection machine which was made in Japan. And also have 9-color,7-color,5-color gravure printing machines, more than 40 bag-making machines and other auxiliary equipment.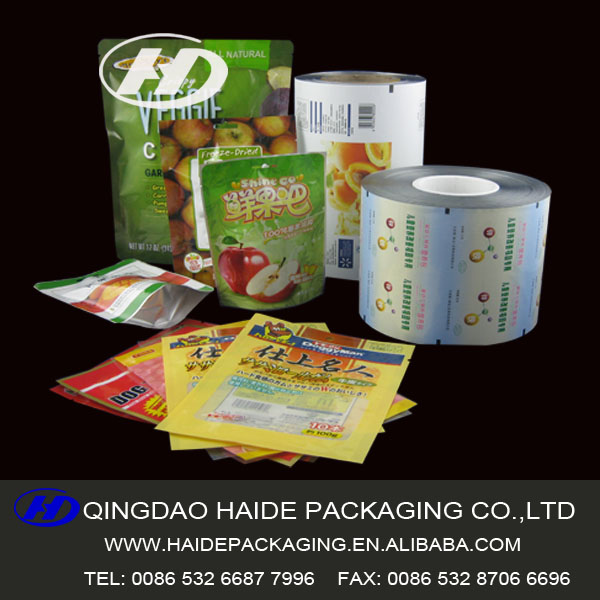 海德拥有4条生产线,设备60台(套),包括意大利生产的Rotomec十色凹版印刷机,印刷速度可达300米/分;Comexi高速无溶剂复合机,复合速度可达450米/分; Comexi多功能复合机,复合速度最高可达450米/分;自动称重高速分切机,分切速度最高可达400米/分;日本产的Futec检测机。此外还有9色,7色,5色凹版印刷机,40多台制袋机及其他辅助设备。
Haide has established the quality management system and achieved the accreditation of the quality system (registered number: Q302Q10721ROS) based on ISO9001 at 2002.

2002年,海德根据ISO9001《质量管理体系-要求》建立质量管理体系并通过了质量体系认证(注册号:Q302Q10721ROS)。

In the year 2006, Haide get the record of food package container and material from the Shandong Entry-Exit Inspection & Quarantine Bureau.

2006年通过山东省出入境检疫检验局进出境食品包装容器及包装材料备案书。

In the year of 2007, get the national foodstuff industry manufacturing License ( " QS " ) Authentication.

2007年通过全国工业产品生产许可(QS)认证。

We had obtaining the customer praise and recognition in the last 20 years, we will adhere to the belief, towards to win-win situation!

在过去的20年中,我们赢得了客户的认可与好评。我们将继续坚持信念,走向共赢!